Google loves changing their algorithm without warning.
If you're not careful, your SEO strategy can quickly become out-of-date and your site's organic rank will begin to tank. If you're still keyword stuffing (hint: don't do that), it is time to revise your strategy for 2022. Here are some quick tips to help improve your rank in the coming year.
Video SEO Structured Data (Aka Key Moments)
If video content is your thing, you're going to want to make sure you are adding in "key moments".
What are key moments? You've probably seen these on the Google Search Engine Results Pages (SERP): a YouTube video takes a prominent position within the results with chapters or key moments indicated throughout. You'll also likely have noticed that if you searched for a video on a specific topic, when you click on the video on the SERP, it will take you right to the part of the video that answers your question. Helpful, right?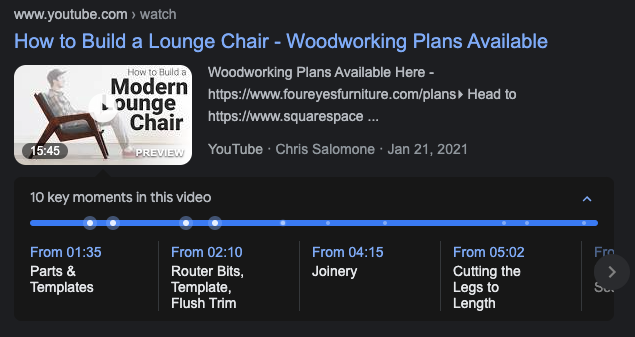 This handy little trick is accomplished in a very uncomplicated way: by using time indicators in the YouTube video's description.
To do this, decide where you would like each key moment to start, then list them with the timestamp and title in the description.
Example: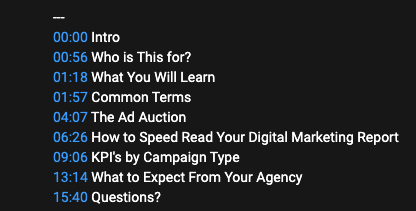 YouTube will automatically insert those key moments into your video and you should see them along the timeline at the bottom of the video. Google will also include them when they reindex your video with this new information.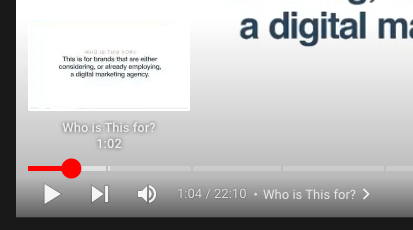 Long-Form Content
Having a blog on your website has long been seen as a great way to improve it's organic rank and establish your brand as an authority on a topic. Long-form content takes time to produce, so many brands opt for quantity over length and write shorter articles to make sure their site is consistently updated with new content, but this year you might want to rethink your content strategy.
Studies have shown that long-form content generally attracts more traffic and is shared more frequently than shorter articles.
To optimize your content, it should be built around the E.A.T. guidelines (Expertise, Authoritativeness, and Trustworthiness), and consist of 2,000 words or more. Also, it's important to break your articles into digestible chunks, with descriptive H2 or H3 headings. This helps users find the part of the article they're looking for more easily and allows for the article to be indexed for specific questions it might answer.
Passage Indexing
Speaking of long-form content, if you've already got a vault of longer articles on your site, passage indexing might just give them a boost in traffic this year. What is passage indexing? Simply put, it is an automated feature that pulls sections from pages into search results, highlighting the part that may answer a user's query, even if the rest of the article focuses on a different topic.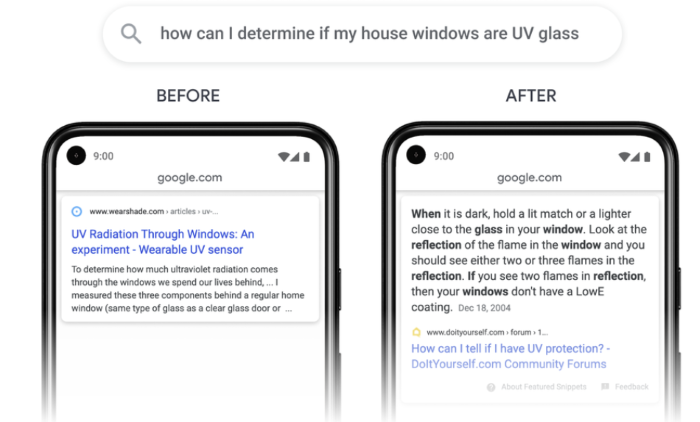 As explained by Cathy Edwards at Google, "We've recently made another breakthrough, and are now able to not just index webpages, but individual passages from those pages. This helps us find that needle in a haystack because now the whole of that one passage is relevant. So, for example, let's say you search for something pretty niche like 'how can I determine if my house windows are UV glass.' This is a pretty tricky query, and we get lots of webpages that talk about UV glass and how you need a special film, but none of this really helps the layperson take action. Our new algorithm can zoom right into this one passage on a DIY forum that answers the question."
Google once said that 15% of daily searches were new queries that have never been searched before. It's believed that the majority of these queries are long-tailed and/or question-based searches and passage indexing helps those searches find helpful answers right on the SERP.
While this won't make or break your SEO strategy this year, if you have been avoiding long-form content it may be time to rethink that. 
Looking for more marketing tips? Check out Social Media in 2022.