5 Tips for a Successful Ecommerce Site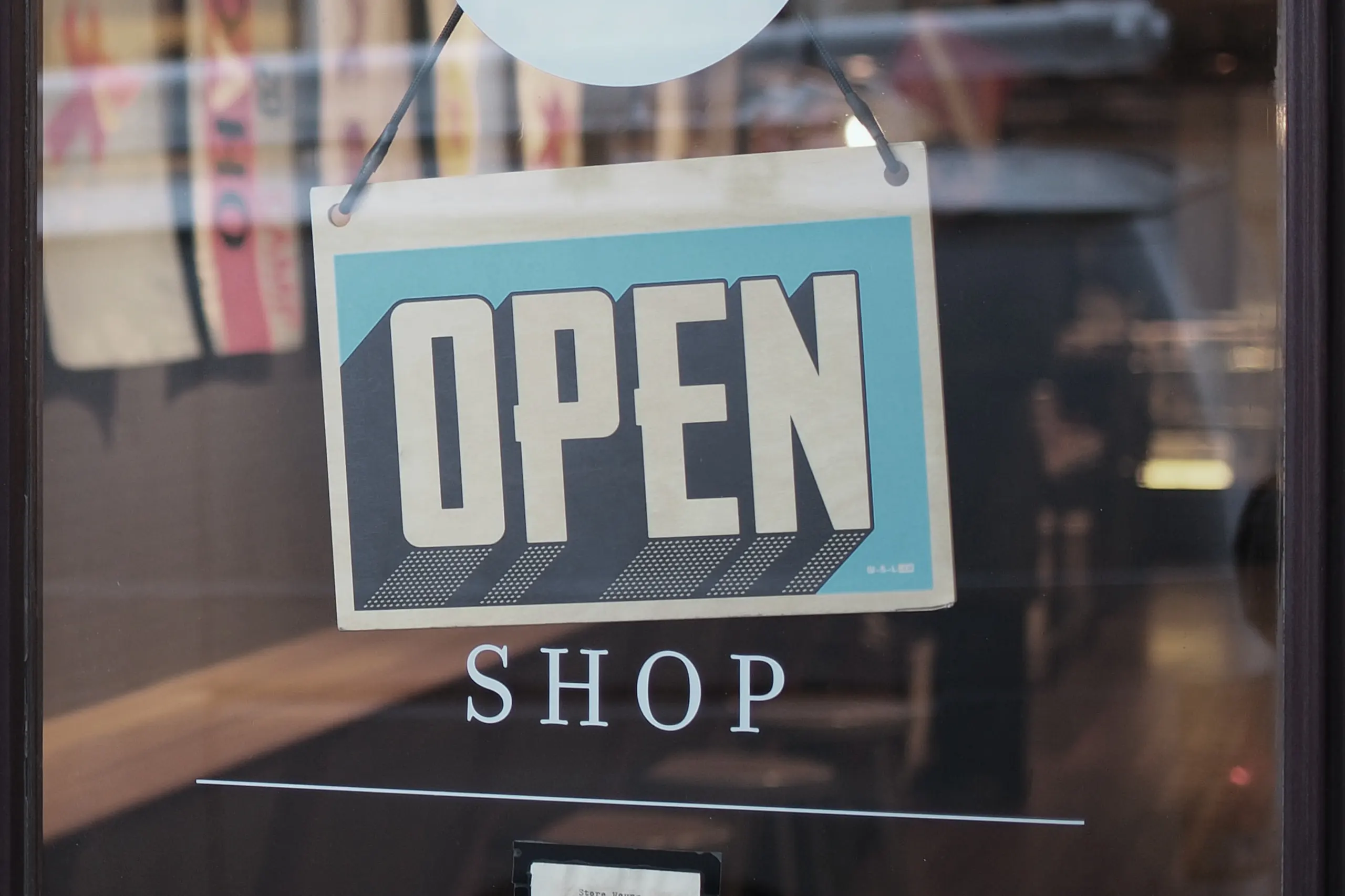 If there was one thing that the pandemic taught shopkeepers, it's that only having a brick-and-mortar location can be incredibly limiting.

Consumer behaviour has been shifting further away from in-person shopping for years now, but once the option to shop in-store was removed entirely, the brands that had an online presence flourished. After all, who didn't do some boredom shopping during lockdown?
If you're managing a store and want to get an online shopping experience up and running quickly, here's 5 key tips that will help lay the foundation for a thriving ecommerce site.
1. Choose a platform that suits your needs
While there are many platform options to choose from, they are definitely not all created equal. It can be tempting to choose a sitebuilder like Squarespace or Wix, because of the simplicity of their drag-and-drop templates. However, these platforms can fall short, especially when it comes to limitations for customization, site performance and speed. Poor performance scores can negatively affect your website's organic ranking on search engines, meaning less people will be able to find your site.
The biggest player in this game is Shopify. This platform is built to exclusively focus on ecommerce sites, and offers the most intuitive inventory integration out there (something a lot of brands forget about until they have to type in product information for 2,000+ items). It's very flexible, easy to use, and feature-rich (not to mention they have 24/7 vendor support). As with the other site builders, there is the risk of performance issues if you're working from a pre-built theme, but custom solutions are available to make sure that your site is built with performance top of mind.
Some questions you should ask when vetting these platforms are:
Can I syndicate my inventory between in-store and online?
Is there training available for the staff who are fulfilling online orders?
Does it integrate with ad platforms like Google Ads, Facebook, etc.?
How customizable is my site's appearance?
2. Keep your inventory organized
Data entry: boring but arguably the most important part of a well-managed ecommerce website. A common mistake when adding inventory to an online store is to leave out what the item is.
Here's an example: say you sell a Hoodie on your site and its product title is "The Randall". If listed only as "The Randall" and not "The Randall Hoodie", it's not going to rank on search engines for the product type and it could lower the item's visibility.
Instead, look at how other successful ecommerce sites organize and name their products. A great example is the Gap: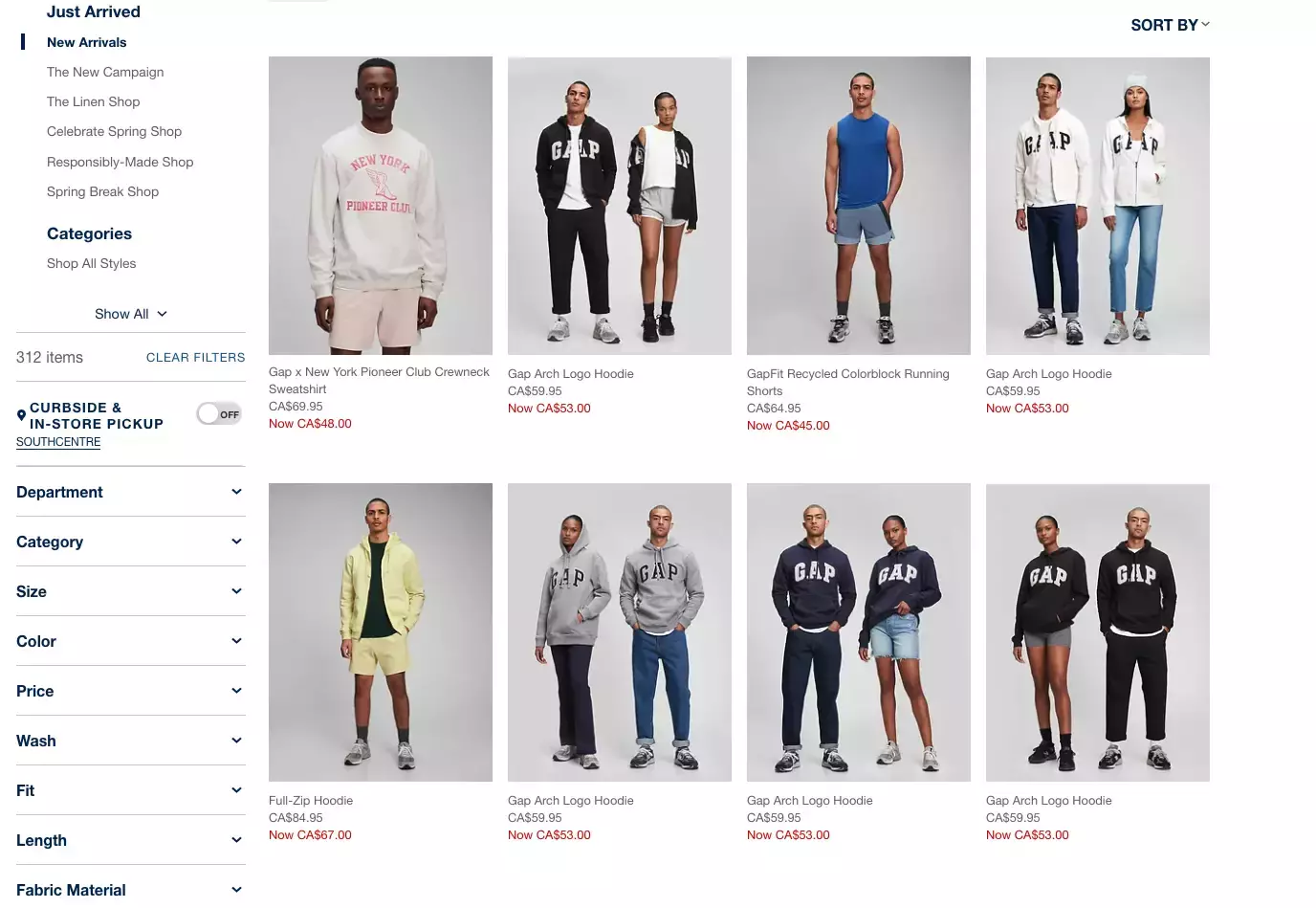 While the example above is pretty simplistic, all these items are directly mentioning the item type in the title, making it easy for search engines to know how to rank them.
Another great thing the Gap is doing is providing substantial filters to the sidebar. This makes it easy for users to sort through your inventory and find the exact item they are looking for.
Something to consider: Amazon has revolutionized online shopping by making it easier and faster than ever before. Consumers have become used to this level of ease and could abandon your site if they don't find a comparable experience.
3. Find your new customers
So your website is up and running and the inventory is optimized. You kick your feet up on your desk, take a deep breath, let yourself relax and then…you remember you actually need people to buy things. It's ok, take another breath, let's dive into how you're going to get customers to your site.
Paid
One of the best ways to get customers to your site in the early days is to run paid ads on Google and Social Media. Both offer integrations with platforms like Shopify and make it easy to syndicate your inventory for ad formats like Google Shopping Ads and inventory carousels on Facebook and Instagram.
These types of paid campaigns offer two great benefits:
Drive traffic to your inventory at manageable ad spend levels
Increase SEO ranking over time, as relevant traffic is sent to the site
Unpaid
Social commerce, the act of buying items directly on social media channels, is bigger than ever and accounted for more than $400 billion in sales in 2021. Now that you've set up paid ads on Google and Social Media, it's time to get your social platforms ready to sell for you. Make sure to connect your website to Instagram Shopping, so that you can tag items directly in your content and leverage your organic following to make sales.
Outside of tagging items in your posts, stories, and reels, social media offers a great opportunity to be creative with how you present your store online. One tactic gaining traction in the past year has been live commerce experiences: a livestream where users can tune in to learn more about products and shop in realtime. This also opens the door to collaborating with influencers to help leverage their audience.
4. Bring em' back
Users are flowing into the website, purchases are being made but then, to your horror, you realize that just under 70% of users are abandoning their cart on your site. "Why would they do that?!", you cry to the heavens. Let's not lose our heads, we can bring them back.
Most website platforms allow you to export users who have abandoned their carts and email them automatically with a coupon code or incentive like free shipping. If there is a price-related reason the customer abandoned their cart, this could be enough of a push to bring them back.
Similarly, you can also gently remind users about the items they left behind with remarketing ads on the Google Display Network or Facebook/Instagram. These ads will dynamically put the items the user viewed into an ad and remind them that they left something behind.
5. Give the people what they want
Now that your store is online and set up for success, the rest comes down to ensuring you can consistently deliver a great experience to your customers.
Ensure you have staff trained on order fulfilment.
Automate your inventory and abandoned cart processes.
Be consistent with posting and engaging on social media.
You customers are looking for you, make sure you're ready when they come knocking.
Need help getting your ecommerce website up and running? Looking to drive more website traffic and increase sales? Get in touch or check out this case study to learn how we helped a clothing retailer reach new audiences and experience an average return on ad spend of 600%.